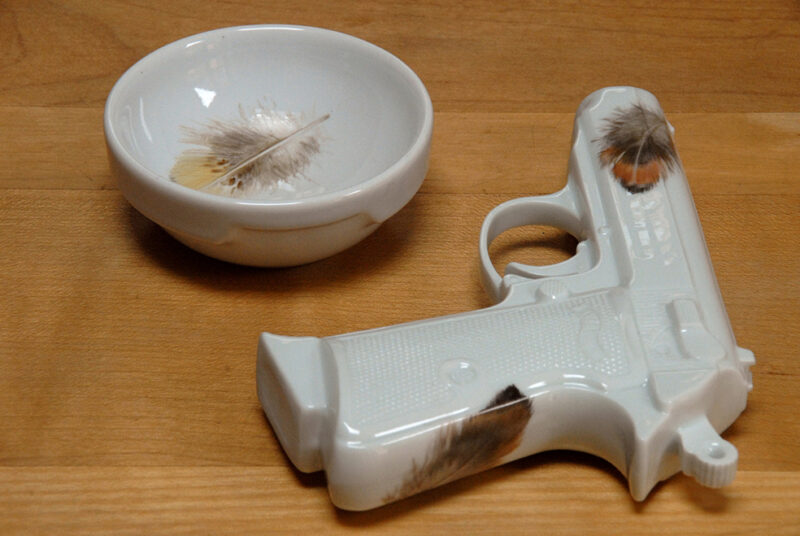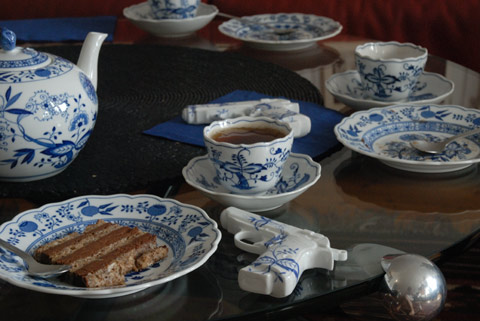 Porcelain, handpainted, marked with YLS
PP/BO_tea time
The Porcelain Pistols are replicas of James Bond's Walther PPK and its contemporary sister, the P99,with friendly permission of Carl Walther Inc.The fragile weapon, hand-painted in the style of classic tableware motifs, liesnext to your coffee and cake, asking to be picked up. Its coolness andcomfortable grip increase the qualms of the user, leaving him in a quandary between the pleasure of luxury and violence.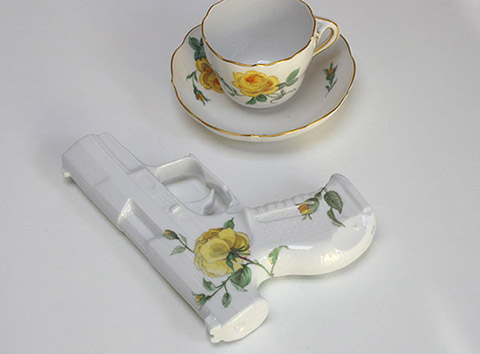 PP/99/YR ( Yellow Rose)
Love and transience, beauty, wealth, and disappointment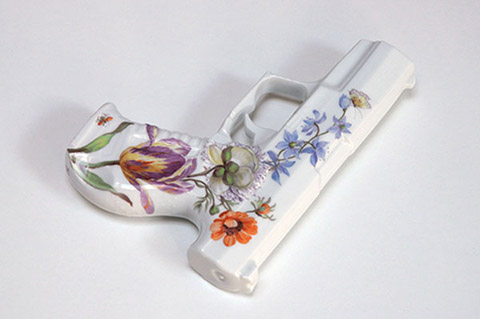 PP/99/CL
A symbol of luxory and fragility of life.
PP/BQ. This is Biscuit Porcelain.
The title of the Pistols allude to original description of "Polizei Pistole", now Porcelain Pistol and decor
PP/99/ B (Blowball) (sold out)
PP/F (Feather)
PP/ BO (Blue Onion)
PP/ S (Strewn Flowers) (sold out)
PP/G (Golden Rim)
PP/99/B (Bouquet)
PP/99/R (Rose)
PP/99/YR (Yellow Rose)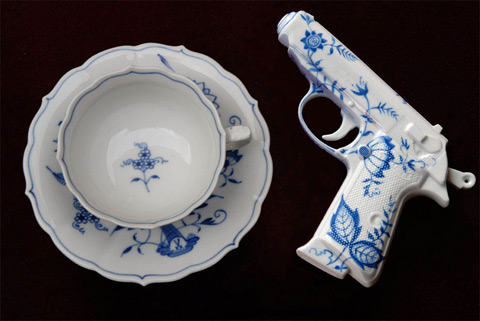 PP/BO (Blue Onion, German: Zwiebelmuster)
PP/BO at the exhibition Back to Earth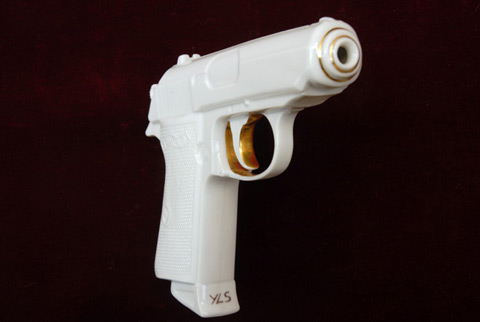 PP/G 1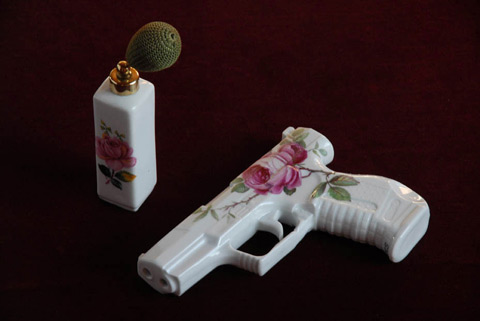 PP/99/R (red Rose)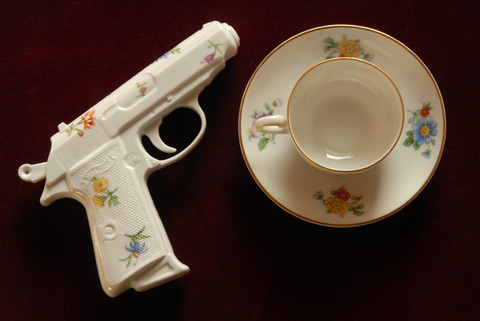 PP/S
Often asked whether the art objects can be purchased.
Yes they are for sale and available.
Some will have to be manufactured especially for you at the KPM Königliche Porzellan Manufaktur Berlin, (Royal Porcelain Manufacturer Berlin)
Also as a personal gift, a monogrammed personal present:
The delicate object can be manufactured as an extraordinary individual present with a handwritten monogram of your name on it.
There are more decors which are not listed here.
In case you are looking for a unique personal gift, a PP with monogram will be produced specially for you.
Prices are depending on the limited editions and decors.
Please choose your favorite decor, or the one, the person you want to offer it to as a present would choose: flowers, gold, platin, minimal design.
You can shop it directly from the art studio by sending an email