Et in Arcadia ego
– Auch in Arkadien bin ich, sagt der Tod
PP/G/U, 2009
Porzellan Pistole/Goldrand/Urbino
Yvonne Lee Schultz – KPM
limitierte nummerierte Edition von 25 Stück
versehen mit YLS und dem Stempel der KPM/
zusammen mit der Teetasse des KPM Services Urbino
erhältlich bei der Künstlerin Yvonne Lee Schultz über das Kontaktformular
please scroll down for english version
Inmitten eines Services überrascht der Anblick einer fragilen Waffe aus Porzellan, die wie selbstverständlich neben dem eleganten Teegedeck liegt. Die Porzellan Pistole PP ist aus dem gleichen zarten Material wie das Urbino Gedeck in der Königlichen Porzellan-Manufaktur Berlin (KPM) von Hand hergestellt. Stilgetreu ist sie mit dem entsprechenden Goldrand Dekor bemalt und integriert sich vollkommen in die Harmonie des zeitlosen Services.
Was zunächst idyllisch wirkt, enthüllt bei näherer Betrachtung seine metaphorische Bedeutung. Als ein Teil des Services versinnbildlicht die Porzellan Pistole die Zerbrechlichkeit des Lebens inmitten des Alltags, des Luxus und der Freude. Auf irritierende Weise vereint das Kunstwerk Schönheit und Tod: "Et in arcadia ego" – auch in Arkadien bin ich, sagt der Tod.
Die Ästhetik des Materials ist verführerisch. Wie dazugehörig liegt die zerbrechliche Waffe auf dem Tisch und will in die Hand genommen werden. Die überraschende Ergonomie der Porzellan Pistole steigert die Verunsicherung des Betrachters. Der Knoten im Lauf der Pistole ist unsichtbar. Er liegt in der Fragilität des Materials. Die Porzellan Pistole PP/G/U (Goldrand/Urbino) ist als präzise Nachbildung der Carl Walther PPK passend zum KPM Urbino Service in der Berliner Manufaktur von Hand erstellt und mit 24-karätigem Goldrand dekoriert.
weitere Porzellan Pistolen mit traditionellen KPM Motiven und Bilder folgen !
Et in Arcadia ego
– I am in Arcadia too, death says.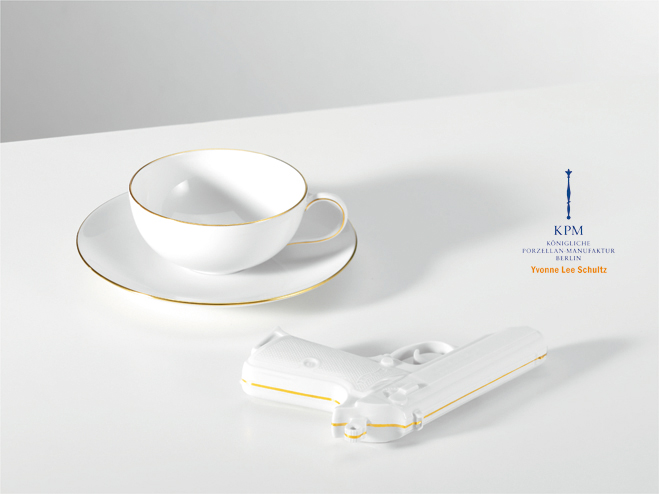 PP/G/U, 2009
Porcelain Pistol/Gold Rim/Urbino
Yvonne Lee Schultz – KPM
limited and numbered Edition of 25 pcs
marked with YLS und the brand stamp of KPM
comes with tea cup and saucer of KPM Service Urbino
available from the artist Yvonne Lee Schultz / send me a mail via contact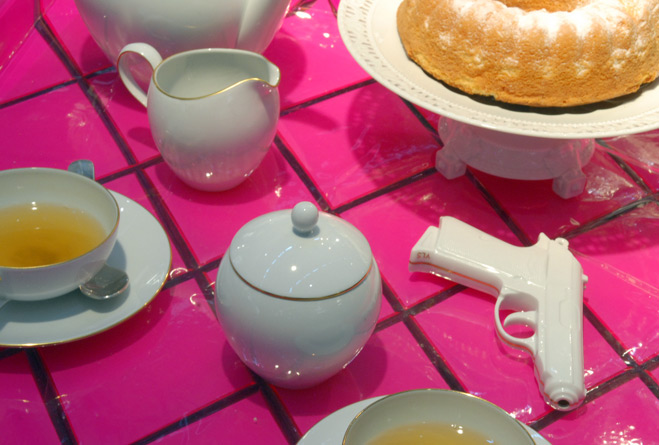 Admidst the idyllic tableware the striking surprise: a fragile Porcelain Pistol attracts attention, sitting as naturally on the table, as if it belongs to the timeless tea cover ever since. The Porcelain Pistol PP indeed is made of exactly the same high quality material as the Urbino cover, which is handmade by the Königliche Porzellan-Manufaktur Berlin (Royal Porcelain Manufacture Berlin, KPM). Painted with the corresponding golden rim decor it integrates itself perfectly into the harmony of the timeless Urbino service.
What first appears idyllic reveils a metaphorical sense at closer attention. As a part of the tableware, the Porcelain Pistol symbolizes the fragility of life within the everyday routine, luxury and happiness.The piece unites beauty and death in an irritating way: "Et in arcadia ego" – I am in Arcadia, too, death says. The beauty of the material is seductive. As if quite naturally belonging to the set, the fragile weapon is asking to be picked up. The Porcelain Pistol's coolness and surprisingly comfortable grip increase the qualms of the user. However, the knot in the barrel of the pistol is invisible. It is in the fragility of the material.
The Porcelain Pistol PP/G/U (Golden Rim/Urbino) is a precise replica of the Carl Walther PPK. It is handmade and decorated with a 24-carat golden rim at the Berlin Manufacture KPM to perfectly fit the KPM Urbino service.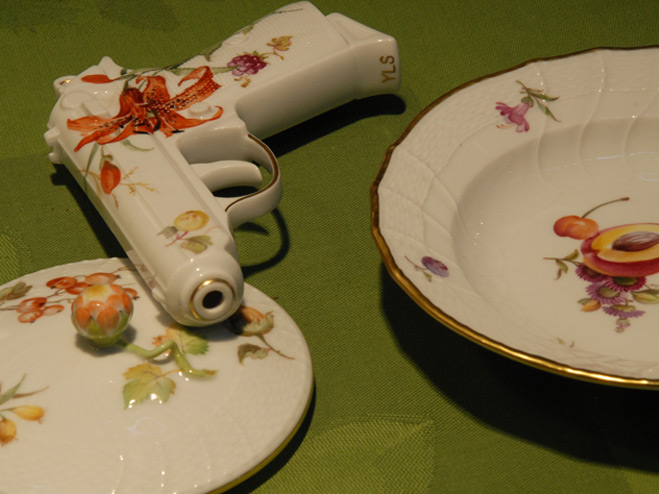 PP/BF, 2009
Porzellan Pistole/Blumen und Früchte/Neuosier
Yvonne Lee Schultz – KPM
limitierte nummerierte Edition von 8 Stück
versehen mit YLS und dem Stempel der KPM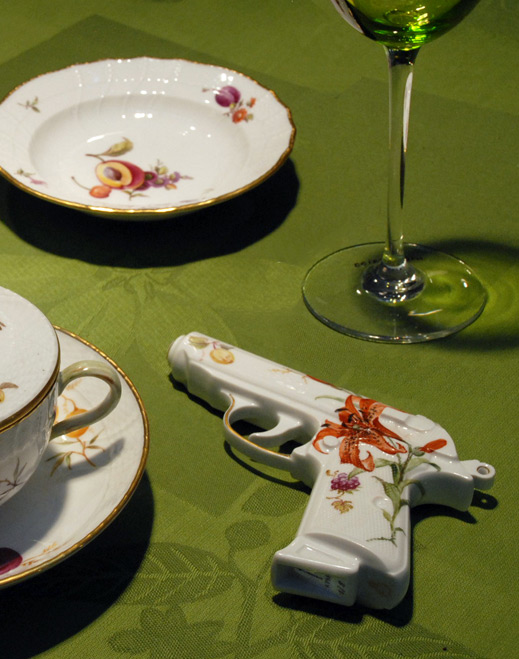 PP/BF, 2009
Porcelain Pistol/Fruits and Flowers/Neuosier
Yvonne Lee Schultz – KPM
limited and numbered Edition of 8 pcs
marked with YLS und the brand stamp of KPM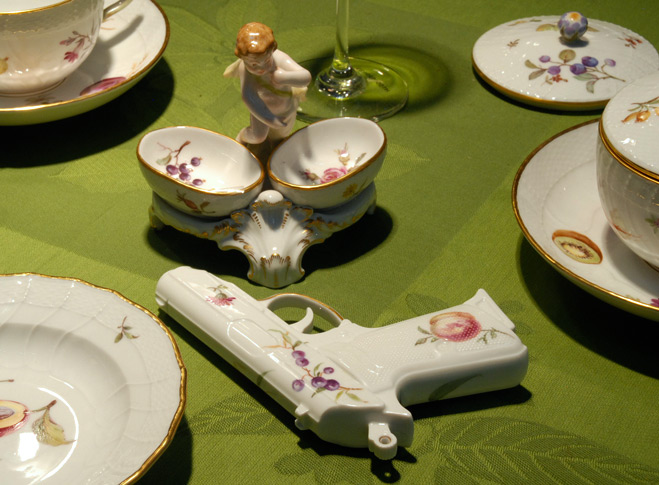 PP/BF, left hand side
More Porcelain Pistols with traditional KPM decors and photos are coming soon!