New porcelain works showing arabic words which were key words of personal
conversations between me an refugees and migrants.
Gallery Brigitte Schenk, Cologne, June-Aug. 2018
UNITY IN DIVERSITY   Exhibition with refugees and migrants
Halim Al Karim Shahram Karimi Deyar Al Sary
Mustafa Al Ammar Borderless TV Dilomprizulike Rimon Elias
Jankiman Omar Liam Khalaf Yvonne Lee Schultz
guest: Ingo Günther, Roberto Cabot
music performance: "DIC" Rimon Elias, Liam Khalaf
"Dangerous Worlds: Encounters of Art and Violence"
'2Sweet2Kill' – The Art of Cosmopolitics
Michael Schillmeier (Exeter) & YLS  Yvonne Lee Schultz (Berlin)
VANDA 2018: Vienna Anthropology Days
https://vanda.univie.ac.at/home/
Cover image: PP/F (Porcelain Pistol/ Feather)
Bernauer Strasse, Berlin Wall
Temporary action in public space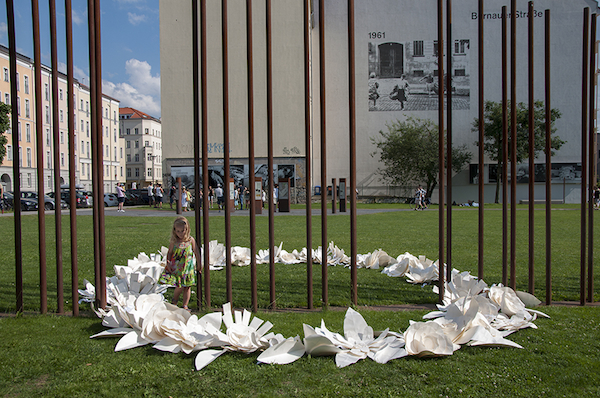 '2sweet2kill'
The chapter is  coauthered with Prof. Dr. Michael Schillmeier
Department of Sociology, Philosophy & Anthropology
Exeter University, UK
Edited by Alex Wilkie, Martin Savransky and Marsha Rosengarten
Routledge, 2017
ISBN 978-1-138-68836-0
https://www.routledge.com/Speculative-Research-The-Lure-of-Possible-Futures
Gewinner des Wettbewerbs fuer Kunst am Bau
Ludwig Hoffmann-Grundschule, Berlin-Friedrichshain
am Neubau  als Erweiterungsbau durch AFF Architekten
Oktober 2010
I am glad to be invited to present the work with the chocolate guns and the photos with the kids at Tedx SV.
The children in the foto shooting and the video documentation participated with permission of their parents.
The video shows 15 friends spontanously playing with handmade chocolate guns in a Berlin backyard.
It shows how much media influences the little ones of our society.
La terre dans l'art contemporain
Group exhibition with Pierre Ardouvin, Julien Bouillon, Nicolas Buffe, Fabrice Croux, Valérie Delarue, Karim Gheloussi, Séverine Gorlier, Saverio Lucariello, Charlotte Nordin, Coline Rosoux, Wilson Trouvé, Xaverz Wolski. (catalog)
Curator Barbara Denis-Morel
Chapelle des Penitents nors, Aubagne
23 July- 25 Oct 09
http://chapelledespenitentsnoirs.over-blog.com/album-1501101.html
http://www.arts-plastiques.ac-aix-marseille.fr/arv/2009/expos/2009/aubagne/LA%20TERRE%20DANS%20L'ART%20CONTEMPORAIN.pdf
Article about porcelain works in Gloria GLAM Magazine, Zagreb, Croatia
Mentioning the Porcelain Pistol PP/M/B (Poppy,  Berlin), which  coms with a mug, Service Berlin, also hand-painted with a red poppy.
http://sac.sagepub.com/content/vol12/issue3/
August 2009
News Archive: